Nothing drives
like the Touareg
Making an instant impression, the Touareg is an 4x4 SUV with unparalleled quality, sublime comfort and next generation technology. Flaunting unique innovations like the 4-corner Air Suspension, matrix LED headlights or the Innovision Cockpit, nothing drives quite like this thoroughbred off-roader.
Book a Test Drive
Design

and technology

No matter the angle it's viewed from, the Touareg offers a bold statement – this is a vehicle that looks as good as it performs.

Book a Test Drive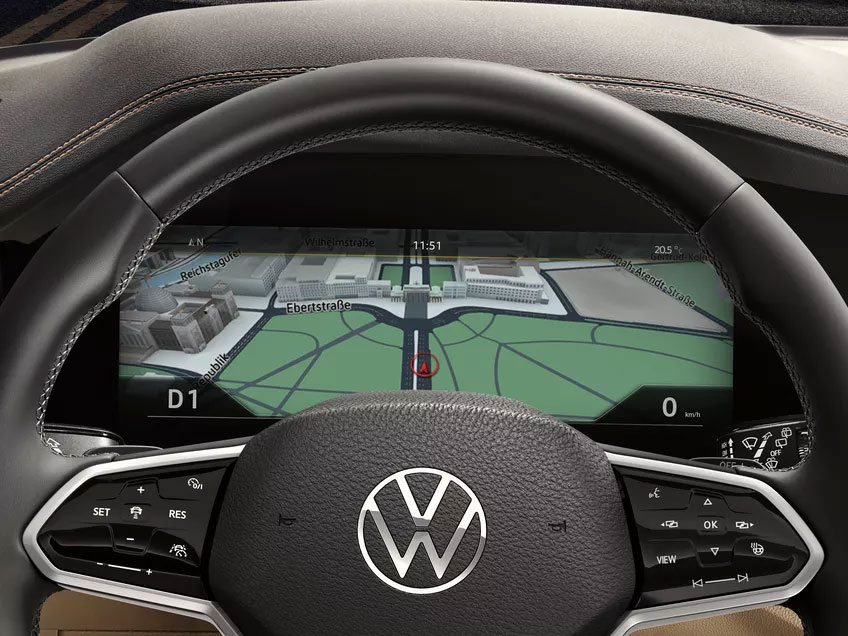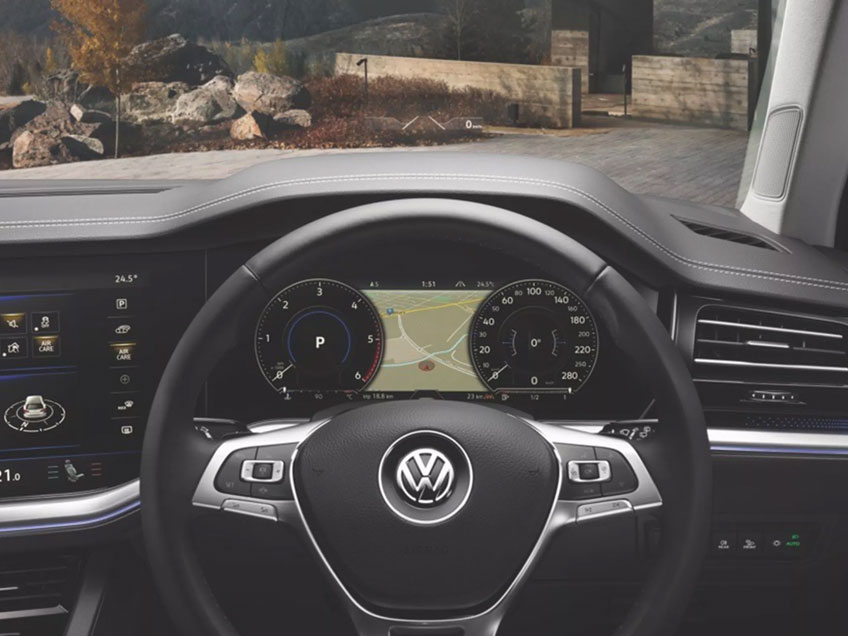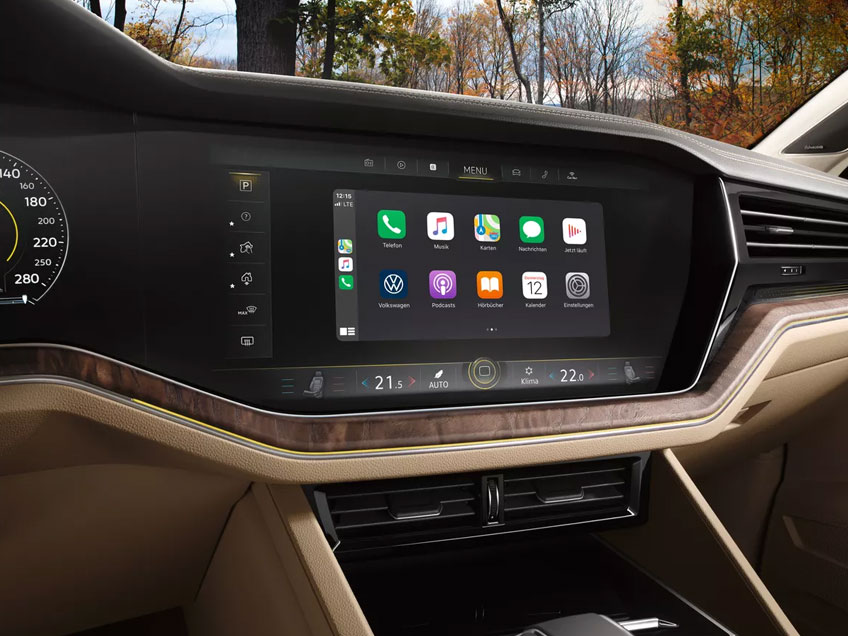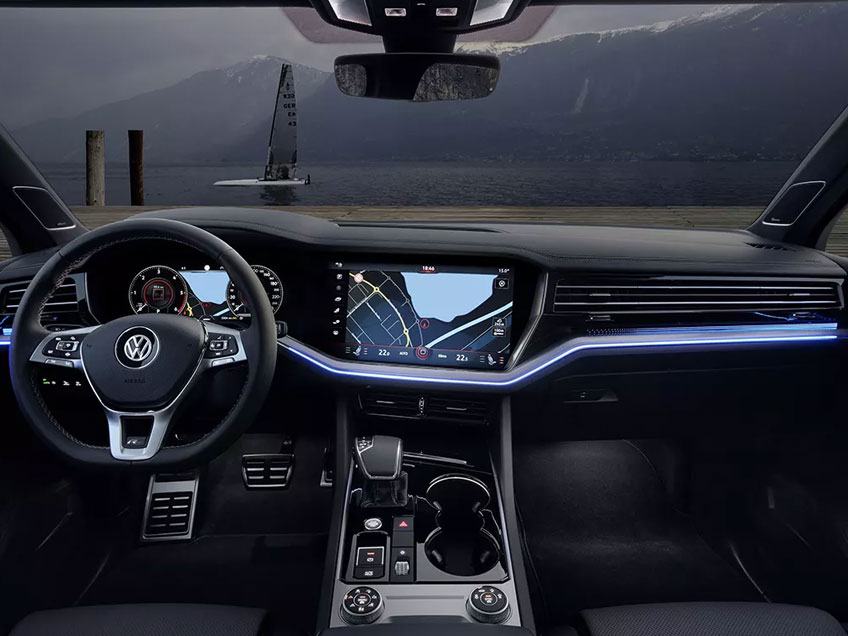 Innovision cockpit
A control centre

like no other

The Innovision Cockpit is the digital instrument cluster and infotainment system screen all in one curved glass surface. Operated by touch, gestures or voice it includes everything you need for a safe and comfortable drive, like the 15-inch Discover Premium Satellite Navigation system and 12.3-inch Digital Cockpit with customisable content.

Optional on the 170TDI
Digital cockpit
A very, very
smart dash
With high-resolution 12.3-inch TFT-LCD colour display, the digital cockpit allows you to see only the information you want to see. You can access detailed driving data via the multifunction steering wheel or infotainment system, view the navigation map with targeted zoom and customise the dash to display full-screen overlays of selected information.
Optional on 170TDI
Head-up display
Eyes on the road

, always

The Head-up Display uses the windscreen as a projection surface to display important information like the speed, messages from the driver assist systems or navigation details. This way, you can keep your eyes on the road ahead.

Optional on 170TDI
App-connect
Stay connected

wherever you are

Bring the familiarity of your phone straight to your infotainment system, thanks to App-Connect 4. Your smartphone integrates seamlessly, allowing you to listen to your favourite music, podcasts, messages you receive, or the latest news and journey information.
Ambient lighting
Set the
mood
When the sky starts to darken, choose from 30 different colours of mood lighting in your Touareg. Nothing gets boring in this luxurious SUV.
Optional on 170TDI
Performance
The Touareg doesn't compromise on performance and it doesn't turn down a challenge. With an impressive turbocharged engine, 4MOTION all-wheel drive, and air suspension, the Touareg will take you anywhere you want to go, on and off the road.
Book a Test Drive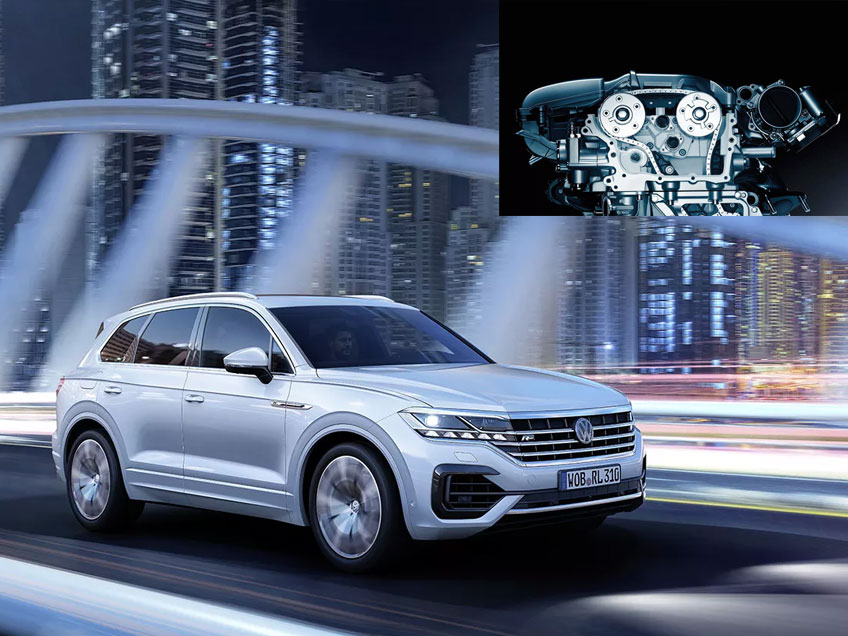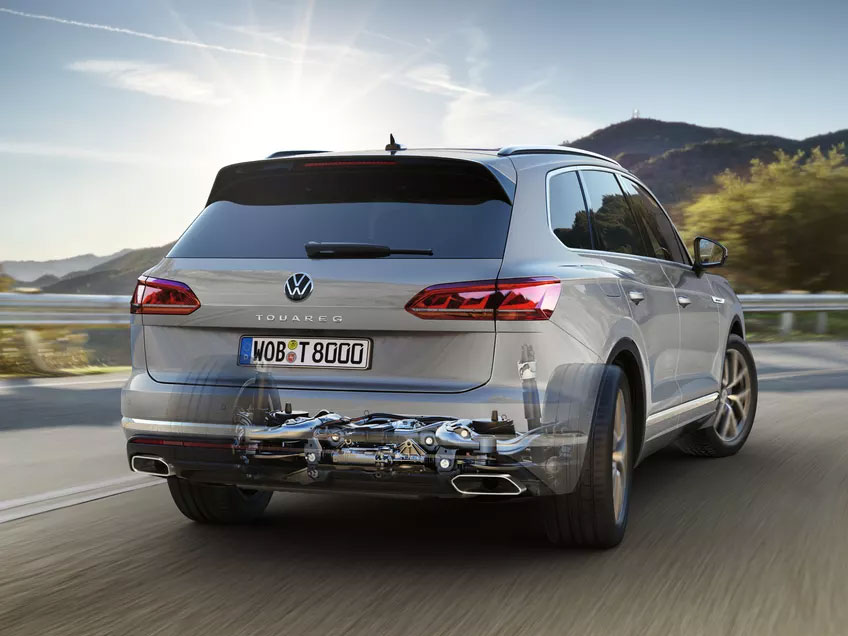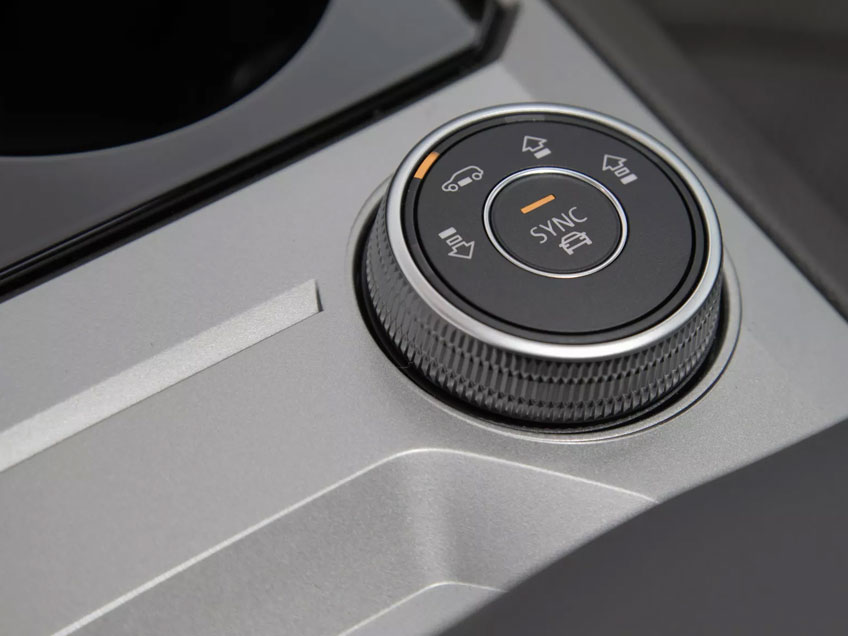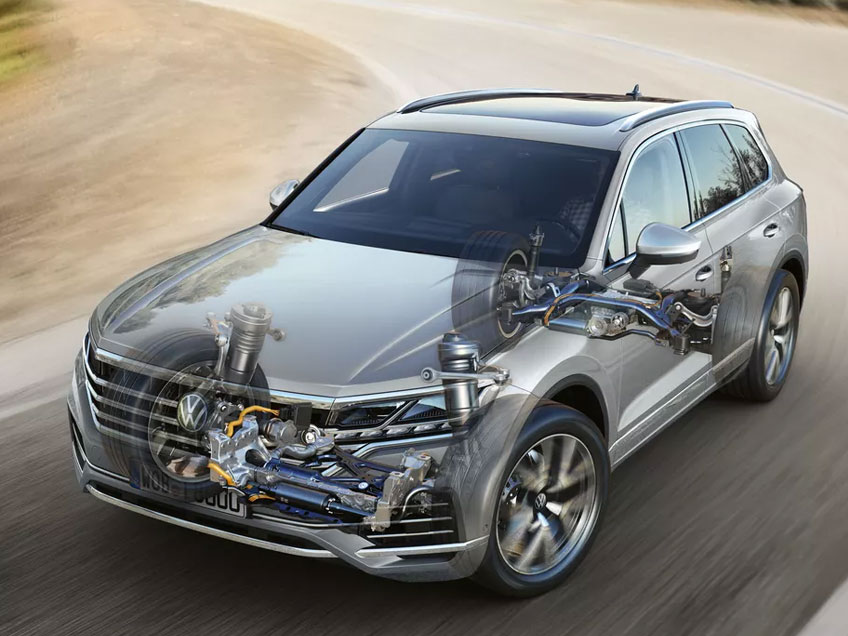 Turbo TDI engine
Power to
go, go, go
The Touareg 210TDI features a 3.0L V6 diesel engine that is capable of providing an impressive 210kW of power and 600Nm of torque. If that still doesn't do it for you, the V8 TDI features a 4.0L V8 diesel engine that produces 310kW of power and maximum torque of 900Nm. This means you can accelerate from 0 to 100km/h in under 5 seconds. Now that's powerful.
All-wheel steering
Total control

on the road

When the rear wheels steer as well as the front wheels, a smaller turning circle can be achieved. This means greater manoeuvrability in tight spaces. The rear wheels also help with stability when you're travelling faster than 50km/h. There's no doubt you'll feel complete confidence on any kind of drive.

Not available on 170 TDI or 210TDI Elegance
Air suspension
Comfort

on any terrain

The Touareg's air suspension with adaptive dampening control, maintains a smooth ride regardless of road surface conditions. Once you float on air, there's no going back.

Not available on 170TDI
Active roll stabilisation system
No more

playing system

The Touareg's front and rear active stabilisers are hydraulic and reduce the lateral tilt when cornering. This helps the car respond sensitively to steering, even at low speeds. This optional system also helps to prevent understeering during more dynamic cornering. All to ensure you and your passengers always have a safer trip.

Not available on 170TDI and 210TDI Elegance
Safety
On the absolute forefront of safety technology5, the Touareg is full of intuitive features that not only help in case of accidents but predict and prevent mishaps before they even happen.
Book a Test Drive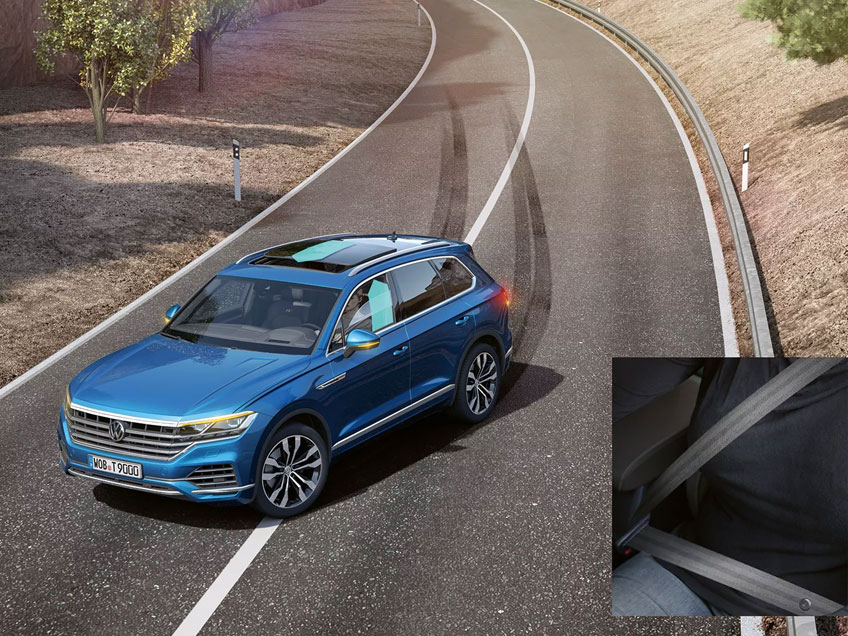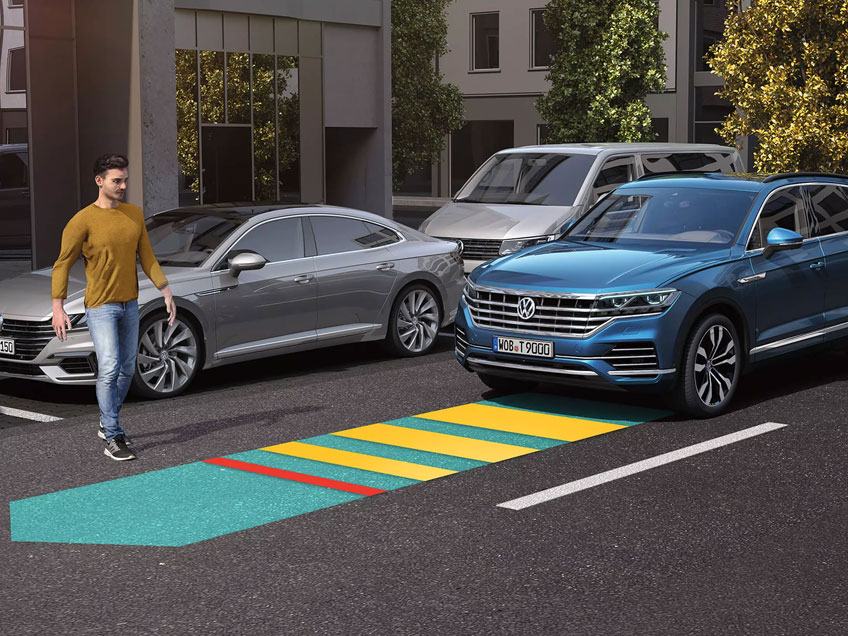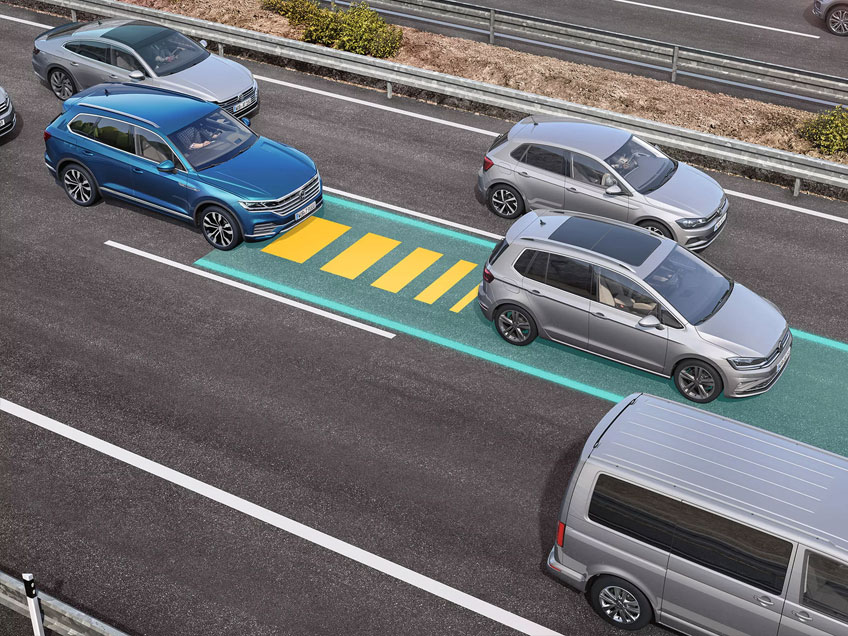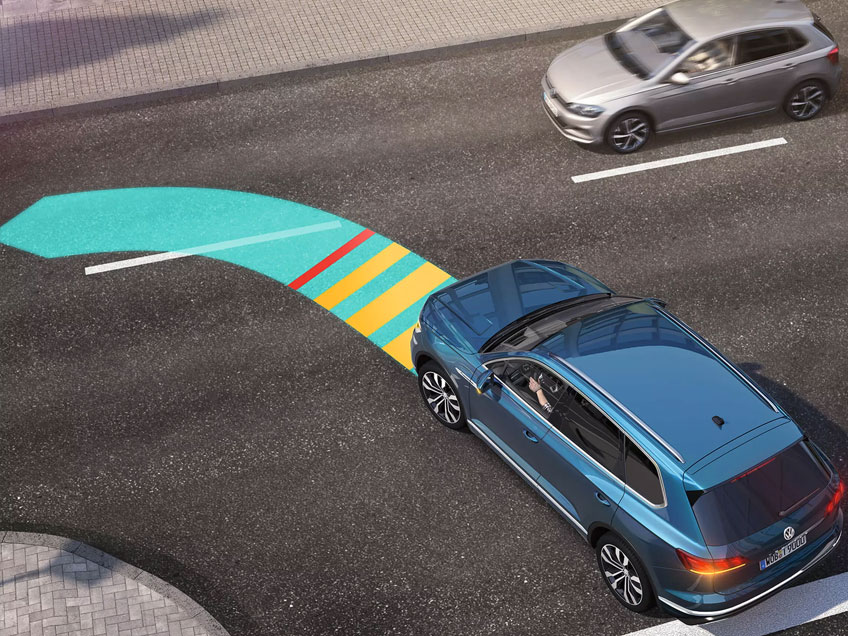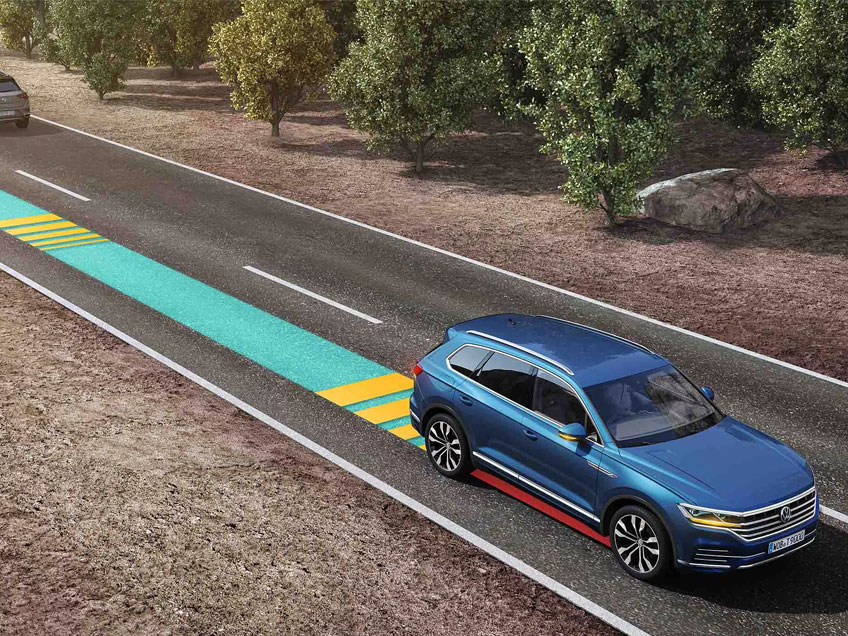 Proactive occupant protection system
The all-around
bodyguard
You and your passengers are protected from all sides with the proactive occupant protection system. If the technology detects a possible accident situation, it automatically triggers safety functions including belt-tightening, activating hazard lights and closing all windows.5.
Pedestrian
Protecting

those around you

The Touareg takes pedestrian monitoring to the next level. It intuitively predicts when a roadside pedestrian might cross your path, warns the driver and, if they do, applies the brakes5.
Traffic Jam Assist
Stress-free

driving

To help you get through traffic easily, Traffic Jam Assist uses proven functions like Adaptive Cruise Control (ACC) and Lane Assist to allow easy, slow driving in traffic jams. Your vehicle will follow the vehicle in front at a speed of 0 to 60km/h and automatically operate the accelerator and brakes to help you avoid typical traffic jam collisions 5.
Front Cross Traffic Assist
Enter traffic
effortlessly
Front Cross Traffic Assist5 is invaluable for blind exits and junctions. It uses the same radar technology in the Adaptive Cruise Control5 system to monitor the area in front of your car and detect vehicles or pedestrians approaching from the side. The system issues optical and acoustic warnings of any cross traffic detected at speeds of up to 30km/h and can implement an emergency stop to help avoid a collision or reduce the severity of it.
Emergency Assist
There when
you need it
When using Adaptive Cruise Control and Lane Assist with Adaptive Lane Guidance, Emergency Assist becomes active when the vehicle detects no steering activity on the part of the driver. The system then initiates a series of attempts to alert the driver before performing a safe emergency stop in the lane 5.
Choose

a vehicle
Features of 170TDI
Adaptive Cruise Control (ACC)
Air Care 2-zone climate control air conditioning with hard key control
Alloy wheels (Osorno) 19"
Discover Pro audio and satellite navigation system with 9.2" colour touch screen display
Electronic tailgate with Easy Open & Close & Keyless Access and start
Lane Assist with Adaptive Lane Guideance , Traffic Jam Assist and Emergency Assist
LED Headlights, daytime driving lights and tail lights
Park Assist, parking bay and parallel parking assistance
Side Assist with Front & Rear Cross Traffic Assist
Vienna leather appointed seat upholstery
Book a Test Drive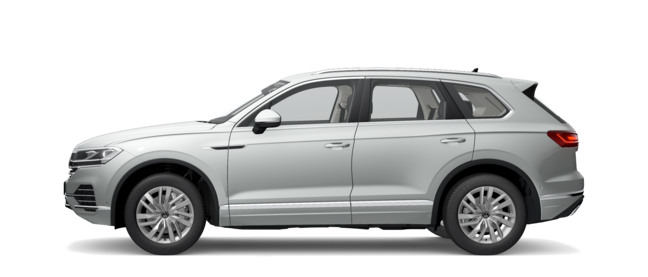 Features of 210TDI Elegance
Air suspension with four wheel steering
Additional ambient interior lighting with 30 selectable colours
Alloy wheels (Montero) 20"
Digital Cockpit with customisable menus and information
Discover Premium audio and satellite navigation system with 15" colour touch screen display
Individually heated and ventilated front seats
IQ.LIGHT Matrix LED Headlights
Premium LED tail lights with dynamic indicators
Savona leather appointed seat upholstery
Windshield projected Head-up Display
Book a Test Drive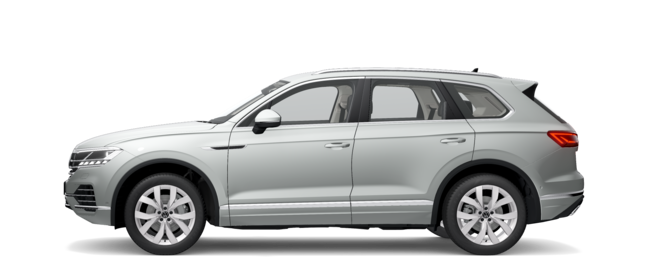 Features of 210TDI R-Line
Air suspension with four wheel steering
Alloy wheels (Nevada) 20"
All-wheel steering
Brushed stainless steel foot pedals
Electromechanical Active Roll Stabilisation
Memory for front seats, mirrors & electronic steering column
Rear and side window tint 82% light absorbing
R-Line front and rear bumpers with piano black accents
R-Line multi-function steering wheel, heated, shifting paddles and touch buttons
Savona leather appointed seat upholstery with R-Line logo
"Soul Black" headliner
Book a Test Drive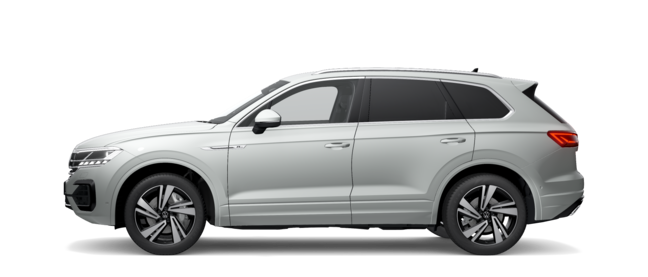 Next

Steps
---
Volkswagen Terms & Conditions
+
2. Fuel consumption figures according to ADR 81/02 derived from laboratory testing. Factors including but not limited to driving style, road and traffic conditions, environmental influences, vehicle condition and accessories fitted, will in practice in the real world lead to figures which generally differ from those advertised. Advertised figures are meant for comparison amongst vehicles only.
3. With rear seat in the forward position.
4. App-Connect is compatible for selected apps with the latest smartphone versions of iOS and Android, active data service, and connection cable (sold separately).
5. Safety technologies are designed to assist the driver, but should not be used as a substitute for safe driving practices.
7. Head-Up Display and customisable ambient lighting features are available with optional Innovision Package, at extra cost.
8. Optional accessories at extra cost. Overseas models are shown for illustrative purposes only. The above accessories may have an effect on fuel efficiency. Items such as sports equipment, cargo carriers and bike racks are shown for illustration purposes only.
9. The Volkswagen Universal Traffic Recorder App (UTR App) is only for use in combination with the Universal Traffic Recorder (UTR/Dashcam) of Volkswagen Genuine Accessories. Its capabilities include live viewing, data management, a car finder function and being able to adjust the recorder's settings. All functions of the Volkswagen UTR app require an active data service between the Universal Traffic Recorder and your smartphone. Configurations vary by model (Front only or Front/Rear camera). Consult your local Volkswagen Dealer for further information.
10. Towing capacities are applicable to Volkswagen Genuine Accessory Tow Bar. Towing capacity figures are maximum figures and actual towing capacity depends on factors including the laden mass of the vehicle, driving conditions and fitment of any accessories. Volkswagen Group Australia does not endorse or will not be held liable for any claim, loss or damage arising from the use or fitment of electronic trailer brakes.